Family Christian Centre Communique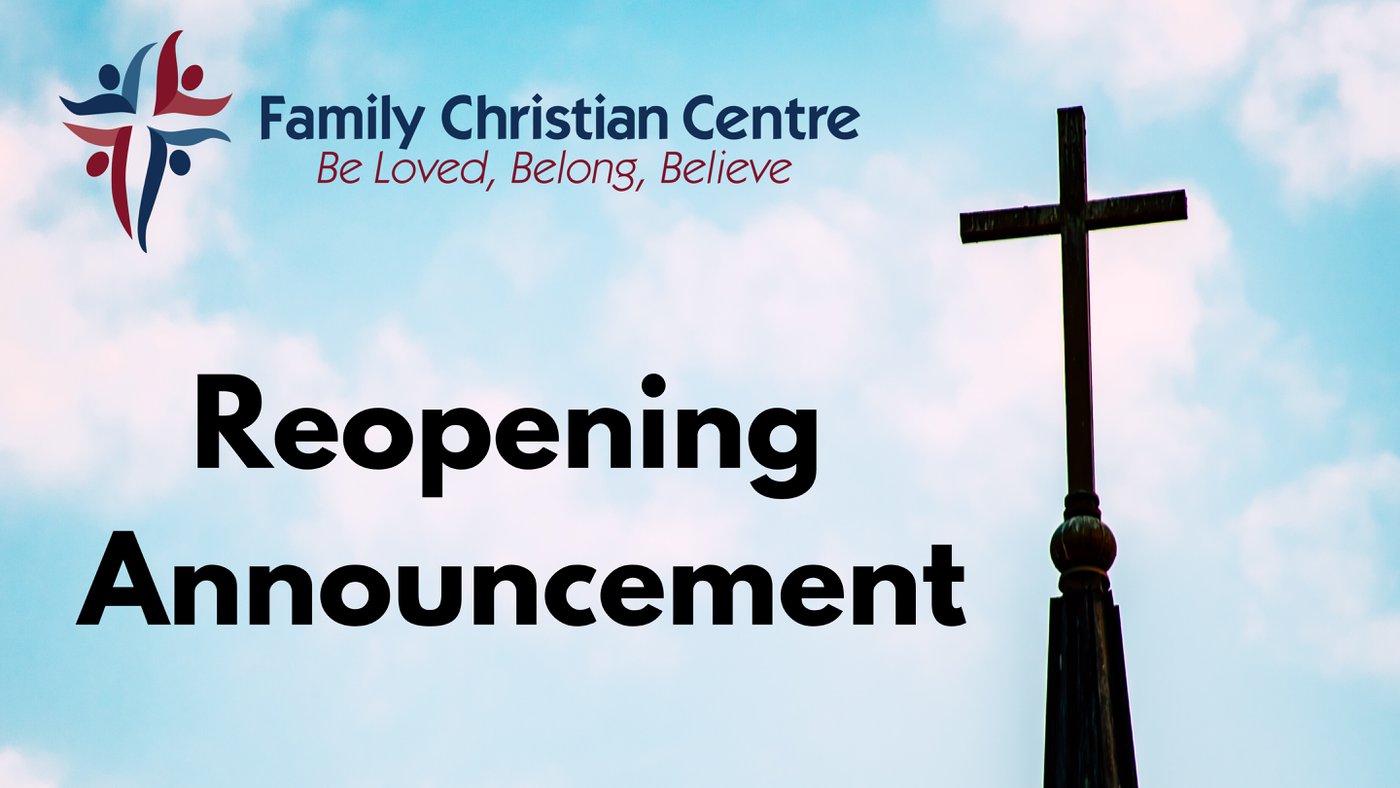 Hi there Family Christian Centre,
Probably the most difficult challenge for the Church during the COVID-19 season, has been the restrictions surrounding public gatherings. We all MISS connecting with the 'family' during our normal connection points.
Our premier has announced stage two of Alberta's relaunch strategy. It comes into effect on June 12. A component of the announcement is the ability for us to resume Church services with recommended physical distancing features in place.
NOW the BIG question: When are we opening?
Designing a SAFE setting for a large congregation is very challenging. We want to relaunch safely and responsibly. To do otherwise would be irresponsible and negligent. Given that during the Summer time, a large number of our volunteer base and our staff are vacationing and enjoying weekends in Alberta's parks, we have decided to do a SOFT REENTRY.
For the month of JULY we will open our building to 100 attendees in addition to our support staff.
For the month of AUGUST we will open our building to 200 attendees in addition to our support staff.
We will evaluate matters and announce the SEPTEMBER plans later.
These gatherings are NOT restricted to members; however, as a necessary management device we are asking you to pre-register. Well in advance of the Sunday gathering a pre-registration link will be activated on our various media platforms.
In the meantime: We will continue to livestream our services. We will provide you with regular updates going forward. A video outlining the 're-opening' process will be uploaded to our platforms within the next few days.
You ARE ALL amazing; we are really looking forward to connecting in person very soon!
Pastor Edwin and Rhoda and the TEAM at FCC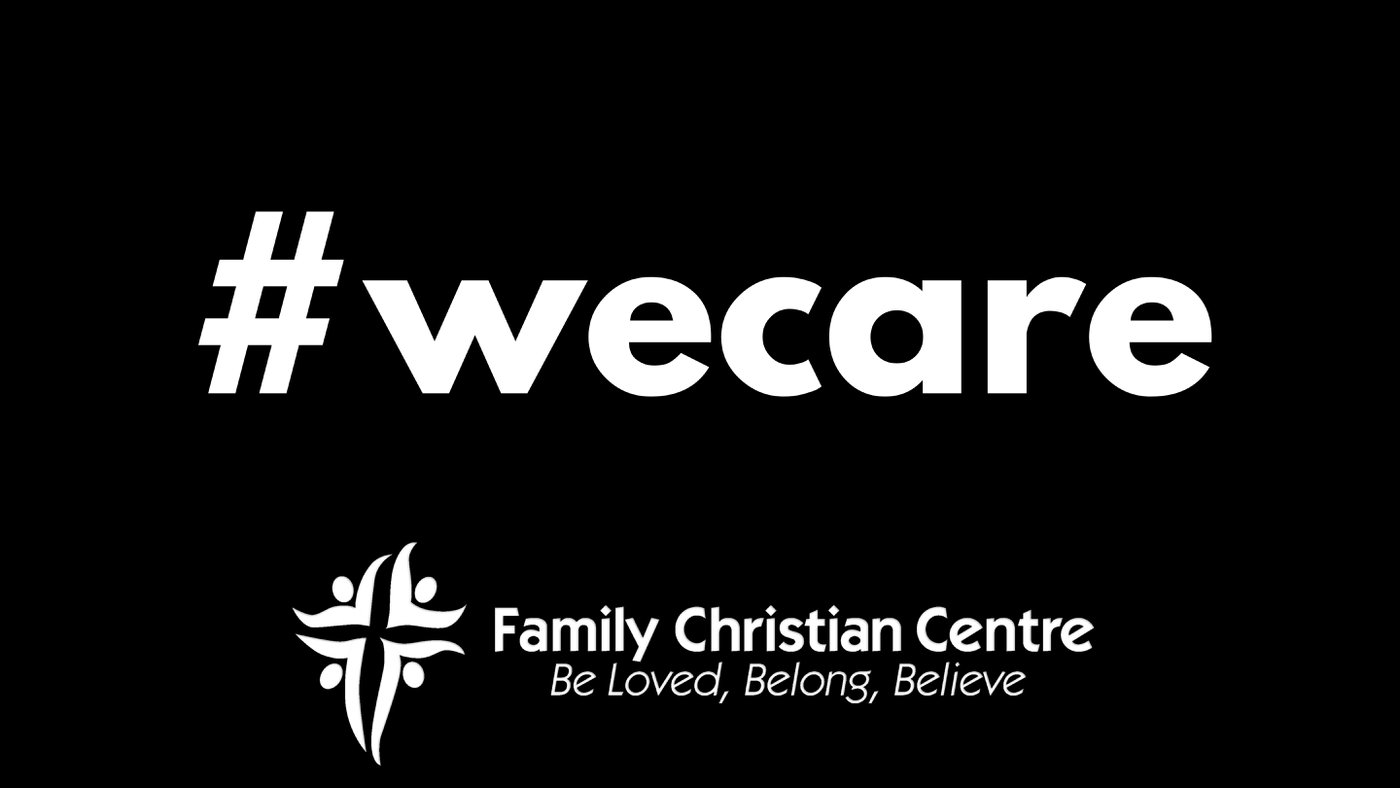 To the Family Christian Centre Community and the Community at large...
The past days and weeks have, once again, shone a spotlight on the tremendous injustices in our society. As a Leadership TEAM we stand in solidarity with the Spirit of God in voicing anguish, disappointment and deep frustration with systems and/or individuals that oppress and devalue people based on ethnicity, socio-economic status, religious preference, disability, age, gender and sexual orientation.
'Black Lives Matter' is the civil rights movement of our time, due to the fact that it speaks out against a fundamental inequality in our society: that lives are too often undervalued simply based on the pigmentation of one's skin.
We peacefully stand against brutality in all forms, including all systems and/or individuals that disproportionately target people based on ethnicity, socio-economic status, religious preference, disability, age, gender and sexual orientation and encourage others to do likewise.
We align ourselves with, and advocate for all those negatively affected by such injustices and encourage others to do likewise. We understand this to be a moral imperative required by God
and a central theme of the Christian gospel
Family Christian Centre is founded on the Christian virtue that God's grace working through humble individuals has the power to change the status quo. We celebrate our diversity and look forward to the dawning of God's eternal Kingdom—a Kingdom untainted by injustice!
Pastor Edwin & TEAM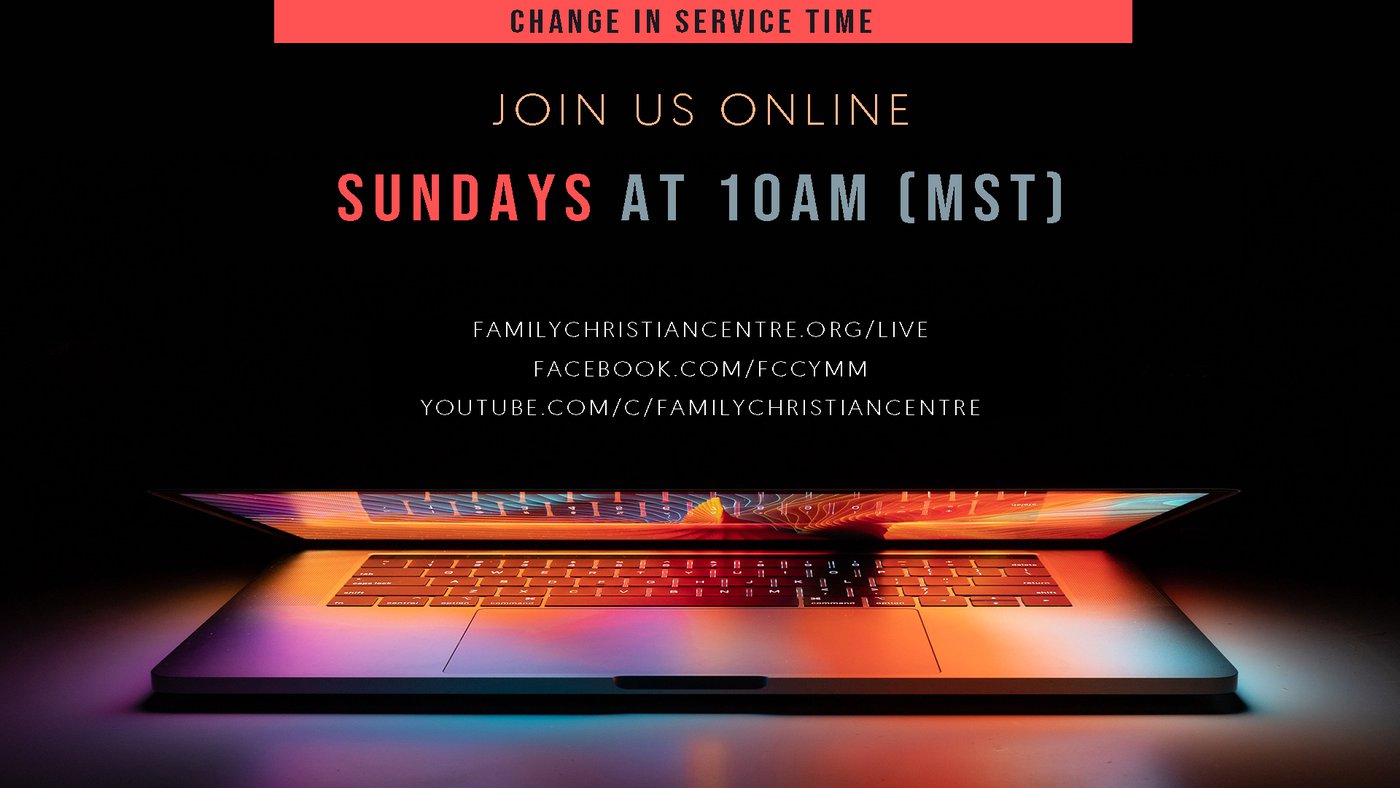 COVID-19 Church Updates
The below communique is amended to note:
*All public gatherings and events have been cancelled
*Our Sunday service at 10:00AM will live-streamed on Facebook LIVE and YouTube
*Legacy Counselling Centre will remain OPEN
*Please feel free to contact the church at 780-791-3366. We would love to be able to connect and pray with you!
To the congregation of Family Christian Centre:
In light of the heightened concerns regarding coronavirus and our desire for safety and health for you, your family and our city, please review the following:
*If you've travelled outside of Canada within the past 2 weeks or have recently experienced symptoms associated with the flu or the common cold (fever, persistent cough, headache, chills, or unexplained rash), we encourage you to minimize your public engagements. Maybe you could consider joining us for our Sunday 11:30am online service as a means of staying connected and being spiritually encouraged.
*On Thursday, March 12, the AHS Medical Officer of Health announced that Alberta is adopting aggressive new public health measures to limit the spread of the COVID-19 virus in light of this global pandemic. Effective immediately, the government is recommending all large gatherings in the province to be cancelled except for places of worship, grocery stores, airports or shopping centres. Furthermore, they are advising Albertans against travel outside of the country.
*As always, we are dedicated to providing a safe, CLEAN environment for you and your families. In addition to hand soap being available in all washrooms, we have hand sanitizing stations spread throughout the church. We plan on continuing our weekend services as per usual but are closely monitoring recommendations made by local, provincial and federal government agencies. Please know that your safety is our first priority!
At the Family Christian Centre here is what our process currently looks like:
• All of our frequently touched surfaces are being given extra sanitization (i.e., doors, handles, water fountains, tables, sinks, toys, check-in stations, touch screens)
• We have installed several new hand sanitization stations throughout our facility
• We will stop having communion during this time
• We do not pass offering buckets/plates
• We do not pass out bulletins and other materials
• We have stopped doing a greeting time
• We recommend that you spread out a little more for our worship gatherings; often the Right wing and the Front sections of the sanctuary are less congested; please consider using this space
• Our door greeters are refraining from shaking hands while remaining friendly
• We will have cleaning staff cleaning "touch-surfaces" during the worship gatherings
• Our worship gatherings will be 1 hour, allowing for people to move quickly out of our facility and allowing for extra cleaning between events
HOW YOU CAN HELP STOP THE SPREAD OF GERMS:
• If you are not feeling well, stay home, rest, and recover. This includes your kiddos. If they have a fever, a cough, a runny nose, a sore throat etc. please keep them home to rest.
• If you notice someone is sick or may not be feeling well, avoid close contact with them.
• Be sure to cover your mouth and nose when coughing and/or sneezing. Cough into your elbow.
• Wash your hands frequently for at least 20 seconds at a time using soap and warm water.
• Disinfect any belongings that you may bring from home with you to church (diaper bags, blankets, etc.)
SCRIPTURES TO DECLARE OVER YOUR LIFE
Psalm 91:5-7 –You will not fear the terror of night, nor the arrow that flies by day, nor the pestilence that stalks in the darkness, nor the plague that destroys at midday. A thousand may fall at your side, ten thousand at your right hand, but it will not come near you.
Psalm 91:10-11—No harm will overtake you, no disaster will come near your tent. For he will command his angels concerning you to guard you in all your ways.
Luke 12:25-26—Who of you by worrying can add a single hour to your life? Since you cannot do this very little thing, why do you worry about the rest?
John 16:33 –I have told you these things, so that in me you may have peace. In this world you will have trouble. But take heart! I have overcome the world.
Continue to read the Bible and pray daily, and do not let fear cripple you. Let's put our full trust in God, our healer!
If you have any questions or concerns, please drop us an email via:
Or email one of the following Pastors:
Lead Pastor [email protected]
Care Pastor [email protected]
Community Ministry Pastor [email protected]
Assistant Pastor [email protected]
Your Pastoral Staff and Leadership Team!